Indianapolis Colts Team History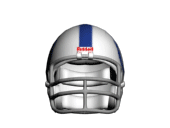 In 1953, the city of Baltimore was awarded a new National Football League franchise. The team was nicknamed the Colts, the second pro football club to bear that name in a seven-year period. Earlier in 1947, a Baltimore Colts team was founded in the All-America Football Conference. Three years later, as part of the peace agreement between the AAFC and NFL, the Colts became an NFL member. But this venture failed and the franchise was disbanded after the 1950 season.

But Baltimore was presented with a second chance for an NFL team three seasons later when the Dallas Texans franchise was cancelled by the league. NFL Commissioner Bert Bell challenged the city to sell 15,000 season tickets within six weeks. The successful sale took just over four weeks and, on January 23, 1953, Carroll Rosenbloom became the principal owner of the new Baltimore Colts.

In 1954, Weeb Ewbank was named the Colts' head coach and he began a steady building program that put his team over .500 for the first time in 1957. The Colts didn't have another losing season for the next 14 years. Powered by a sensational young quarterback, Johnny Unitas, and a strong supporting cast that included such future Pro Football Hall of Famers as Artie Donovan, Gino Marchetti, Raymond Berry, Lenny Moore and Jim Parker, the Colts won NFL championships in both 1958 and 1959 and again in 1968.

The 1958 NFL title clash against the New York Giants, played before the largest television audience ever up to that time, did much to increase fan enthusiasm for pro football. With Unitas craftily engineering long drives that led to the tying field goal and winning touchdown, the Colts won 23-17 in overtime.

Both the Colts and Ewbank were involved in a second game 10 years later that would share ranking as a pivotal game in creating far-reaching fan enthusiasm. The game was Super Bowl III and the Ewbank-led New York Jets stunned the heavily-favored Colts 16-7.

Under Don Shula, who replaced Ewbank in 1963, the Colts won NFL Western conference championships in 1964 and 1968. Shula moved to Miami in 1970 but the Colts, who had moved to the new American Football Conference at the time of the merger, won the first AFC Eastern division title and Super Bowl V.

Baltimore, with Ted Marchibroda as coach, won three straight divisional titles in 1975, 1976 and 1977. The franchise then fell on hard times with a 19-53-1 record in the five years between 1978 and 1982.

Robert Irsay, who acquired the Los Angeles Rams franchise in 1972, engineered an historic trade of teams with Carroll Rosenbloom that year. Twelve years later on March 28, 1984, Irsay moved the Colts to Indianapolis, where they now play in the RCA Dome.

The Indianapolis Colts won the AFC East title in 1987 and 1999, and the AFC South in 2003 and 2004.